Kriptorinkų apžvalga 2019-11-28. Bitcoin investicija bloga
Kad bitcoin yra bloga investicija, nusprendė LongHash po atlikto tyrimo. Tiesa, jie paskaičiavo, kad 90% bitcoin egzistavimo laiko investavimas į bitcoin davė teigiamą grąžą.
O 410 dienų iš 3 978 investavimas į bitcoin buvo neigiamas. Kaip viskas būtų ir gerai, tik va problema: ne visi pirko bitcoin pirmomis dienomis, o būtent tada, kai jo kaina buvo aukštumose.
Todėl tyrėjai nusprendė, kad vidutiniškai, vidutinis investuotojas į bitcoin prarado šiek tiek mažiau nei $200.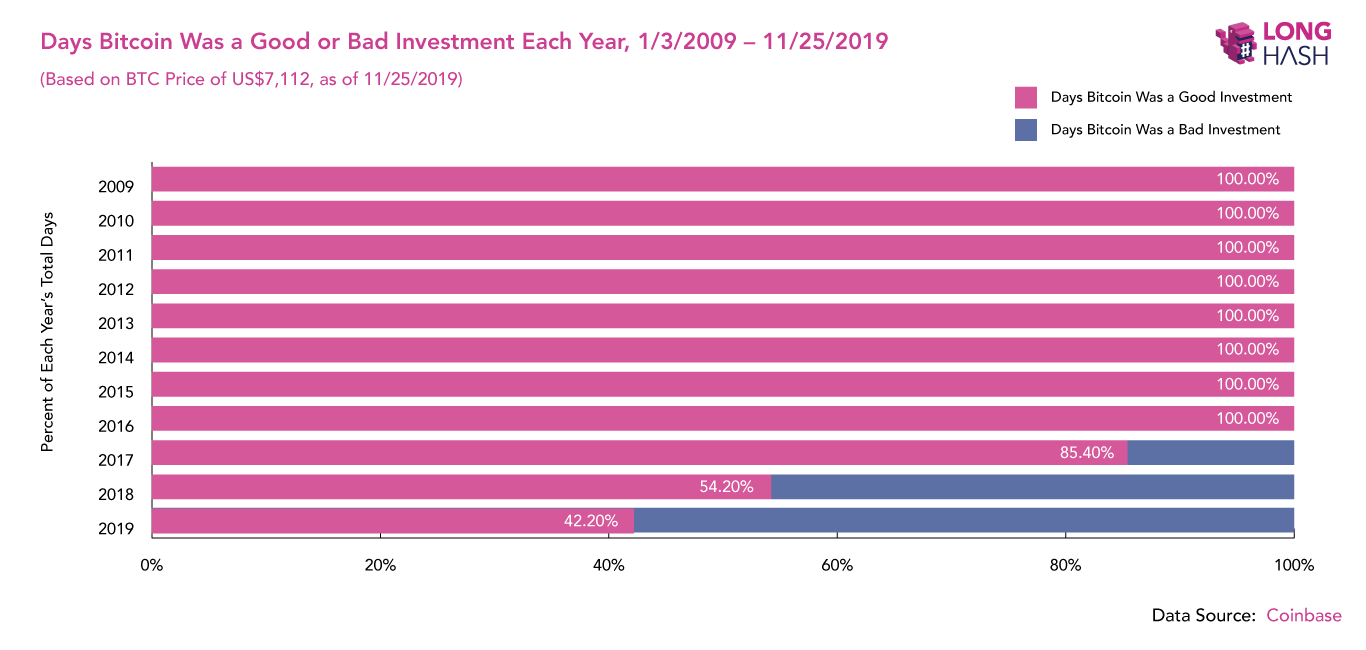 O kaip ten dar bus ateityje, tyrimas ir negali parodyti. Bet jis geras tuo, kad truputėlį užčiaupia burną bitcoin aktyvistams: na ne viskas čia taip gerai, kai vidurkis yra neigiamas.
Smūgis eteriui
Štai ir Ethereum nukentėjo nuo griežtos kritikos. Kompanijos Blockstream direktorius griežtai, bet kiek atsargiai 'užvažiavo' ant eterio savo Twitter poste:
This is really not at all true. Theranos had several generations of medical testing devices, and pushed their engineers extremely hard. The management just went too far into overselling what it could do and misrepresentation about the state of the tech. Uncannily ethereum-like.

— Adam Back (@adam3us) November 26, 2019
Išverčiu į lietuvių kalbą: kruopščiai apgalvotas daugiametis sukčiavimas. Na jo, aš apie bitcoin daug atsargiau pasisakau…
Kas neprisimena, priminsiu: bitcoin turi finansinės piramidės požymių. Ir tik tada, kai jis taps (taps?) visuotinai pripažinta valiuta, pakeisiu savo nuomonę.
Netikėtas smūgis Ripple'ui
Atrodo, kas gali atsitikti vienam populiariausių altcoinui, jau seniai naudojam žetonui Ripple? O gi jis gali visiškai numirti…
Alex Kruger prognozuoja, kad XRP vertė iki 2020 m. vasario nusiris iki visiško nulio.
Tiesa, šitas spekuliantas naudoja grynai matematinę linijinę prognozę, kuri ir duoda tokį netikėtą rezultatą.
Bet mes taip pat galim manyti, kad Ripple žetono kaina normalizuojasi ir juda ten, kur ir turėtų būti jos vieta. Nebūtinai tai turi būti nulis.
Regressing $XRP against time starting Jan/1/2018 using a linear regression forecasts price to hit zero next February. #Perspective pic.twitter.com/gLh4kZZv06

— Alex Krüger (@krugermacro) November 27, 2019
Grafikai
BTCUSD pozicijoje shortai užsidarė ir suveikė pirkimo signalas. Stopas @6617. Tai čia kaip pažiūrėsi – gal gera yra bitcoin investicija…
ETHUSD pozicijoje stopą drąsiai leidžiam iki @156.57.
LTCUSD pozicijoje stopą leidžiam iki @48.858.
EOSUSD pozicijoje stopą laikom @2.7572.
NEOUSD pozicijoje kol kas nieko nedarome ir stebim, kur link pasisuks rinka.
IOTUSD  pozicijoje stopą leidžiam iki @0.2171.
XRPUSD pozicijoje stopą leidžiam iki @0.23063.
Bitfinex suteikia geras shortinimo sąlygas. Prisijunkite su kodu HE1nob0M.
---
Norite išmokti dėlioti stopus, kaip šiose apžvalgose?
Norite didinti pelnus ir mažinti nuostolius?
Paprasčiausiai užpildykite formą ir gaukite pasiūlymą individualiems nuotoliniams mokymams. Tik 100 EUR. (Rudens nuolaidos ne amžinos!).