Rinkų apžvalga 2018-11-06. Naftos klausimas
2018-11-06
Prieš mėnesį naftos kainos kilimas išgąsdino dėl galimybės įtakoti ir infliacijos kilimą pasaulinėje ekonomikoje. Bet dabar matosi, kad būgštavimai buvo be pagrindo.
Priežasčių tokiems svyravimas tikrai buvo. Ir bene svarbiausias dalykas buvo ir yra lūkesčiai dėl sankcijų Iranui. Informacija apie naujas sankcijas pakėlė kainas, bet pasirodžius gandams, kad naftos sektoriui sankcijos bus lengvesnės, kaina koregavosi.
Be abejo, prie naftos kainų žemėjimo prisidėjo ir fundamentalūs faktoriai. Ir vėl gavyba JAV. Vasarą jos gavyba augo rekordiniai tempais. Rugpjūčio mėn. gavyba nuo 10.9 mln. barelių per dieną liepos mėn. pakilo iki 11.3 mln. b/d.
Ir tai pirmas kartas kada šalyje naftos gavyba viršijo 11 mln. b/d. Šalis išsiveržė į naftos gavybos lyderius. Aišku, kad naftos kaina reaguos mažėjimu.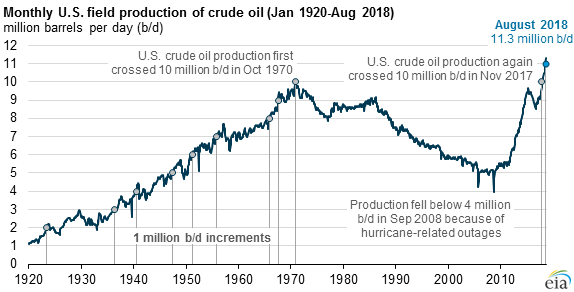 Aišku, ne tik JAV didino gavybą. Ji augo ir Saudo Arabijoje. Ir Arabai tikrai atsilieka nuo amerikiečių. Galima sugretinti. Saudo Arabijos naftos gavybos naujausi duomenys:

source: tradingeconomics.com
JAV naftos gavybos duomenys:

source: tradingeconomics.com
O va taip atrodo trijų pagrindinių naftos gavybos šalių dinamika:
Kokios ateities tendencijos?
Galima įtarti, kad tendencijos "meškiškos". Investuotojus neramina lūkesčiai dėl lėtėjančios pasaulinės ekonomikos. Tik tie lūkesčiai tikri, laikas dar parodys.
Tačiau priedo auganti naftos gavyba net ir "dingus" Irano (išskyrus 8 šalis, kurios galės importuoti Irano naftą) bei Venesuelos naftai mažina investuotojų long pozicijas naftos rinkoje:
Tad rinkoje dominuoja lūkesčiai, kad naftos kainos šiais ir kitų metų pirmoje pusėje toliau koreguosis. WTI naftos kaina vėl išėjo iš kainų kanalo. Ir šį kartą per apatinę ribą. Panašu, kad bus ieškoma naujo dugno.
Brent ateities sandorių pozicijoje sell short signalas @72.15.